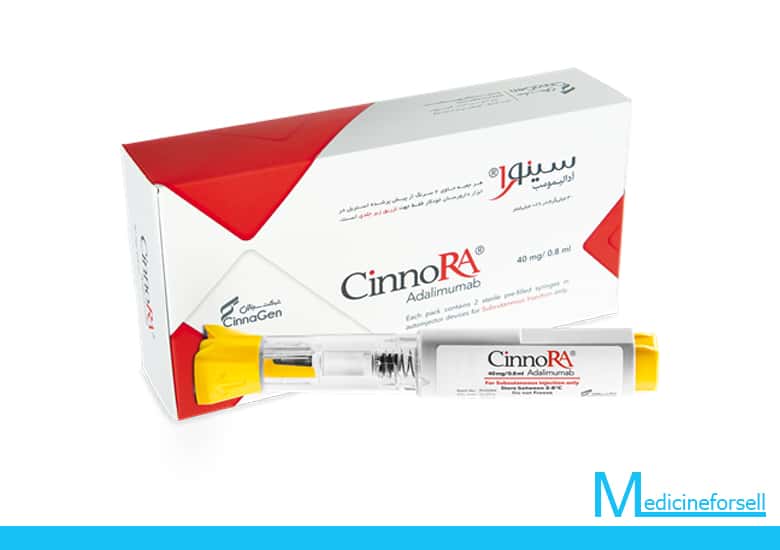 CinnoRA (Adalimumab)
Beyond the symptom control
What is it?
What is CinnoRA?
CinnoRA is the brand name of adalimumab. Each autoinjector of CinnoRA contains 40 mg adalimumab as an active ingredient in 0.8 ml solution.
Indications
What is CinnoRA used for?
CinnoRA is used to reduce signs and symptoms of rheumatoid arthritis (RA), as well as to prevent the development of structural damage, and to improve physical function of adult patients with moderate to severe RA who did not respond well enough to one or more of the disease-modifying antirheumatic drugs. Your doctor will decide if CinnoRA should be used alone or in combination with other medications. CinnoRA can also be used in juvenile idiopathic arthritis (≥2 years of age), psoriatic arthritis, ankylosing spondylitis, Crohn's disease in adults or children (≥6 years of age), ulcerative colitis, plaque psoriasis, hidradenitis suppurativa in adults and adolescents (≥12 years of age), and non-infectious uveitis in adults and children (≥2 years of age).
Contraindications
Who should not use CinnoRA?
Do not use CinnoRA if:
You are allergic to adalimumab or any components of CinnoRA formulation.
You have severe active infections.
You have moderate to severe heart failure.
Important information
What should you know about taking CinnoRA?
Appropriate precautions and special warnings for use:
Active infections such as tuberculosis
History of tuberculosis infection
Malignancies
Chronic carriers of Hepatitis B virus
Hypersensitivity reactions
Nervous system disorders
Hematologic disorders
Congestive heart failure
Lupus-like syndrome
Tips:
Please inform your physician or healthcare provider:
If you are receiving any other medicines
If you are scheduled to have any surgery or dental procedures
Before getting any vaccines
If you have symptoms such as fever, wound, abnormal bleeding or feeling extremely tired.
Do not use this medicine after the expiry date stated on the carton or device after "EXP".
Do not use the medicine if the liquid is discolored, has particles or is cloudy.
Keep CinnoRA out of sight and reach of children.
It is recommended to record the name and the batch number of the product.
What other drugs could affect CinnoRA?
CinnoRA may interact with some of your other medicines. Consult your doctor or pharmacist if you are taking, have recently taken or might take any other medicines, including herbal, supplemental and OTC (over the counter) medicines.
How to use CinnoRA?
Your physician determines the dosage of your medicine. But the usual dose of CinnoRA is as follows:
CinnoRA is usually prescribed 40 mg every other week, subcutaneously. Note that in some diseases, according to the Physician's opinion, a higher initial dose may be considered.
Is CinnoRA safe during pregnancy and breastfeeding?
Tell your doctor or your pharmacist if you are pregnant, are planning to become pregnant or are breastfeeding.
What happens if you miss a dose?
If you missed a dose, take a missed dose as soon as you remember, and continue subsequent injections as you would have on your originally scheduled day, had you not forgotten a dose. If it is close to the time for your next dose, skip the missed dose. If you missed more than one doses, inform your doctor.
What happens if you overdose?
Additional doses of the drug should be avoided. If you took additional doses, contact your doctor or pharmacist and tell them that you have taken more, at any time for future advice.
Side Effects
What are some side effects of CinnoRA?
Like all medicines, this medicine may also cause some side effects along with therapeutic effects, although not everybody gets them. Consult your doctor or pharmacist if you have any of the following side effects.
Symptoms of infection (fever, chills, sore throat, flu like symptoms)
Injection site reaction (including redness, swelling, localized discoloration, inflammation, and pain)
Headache
Skin rash
If any other unpleasant symptoms occurred, inform your doctor or pharmacist.
Storage
How to store CinnoRA?
Store CinnoRA in a refrigerator (2ºC-8ºC). Do not freeze.
Each autoinjector is for single use only.
Keep the medicine in the outer carton in order to protect it from light.
Keep this medicine out of the sight and reach of children.
Do not use this medicine after the expiry date stated on the carton or device, after "EXP".