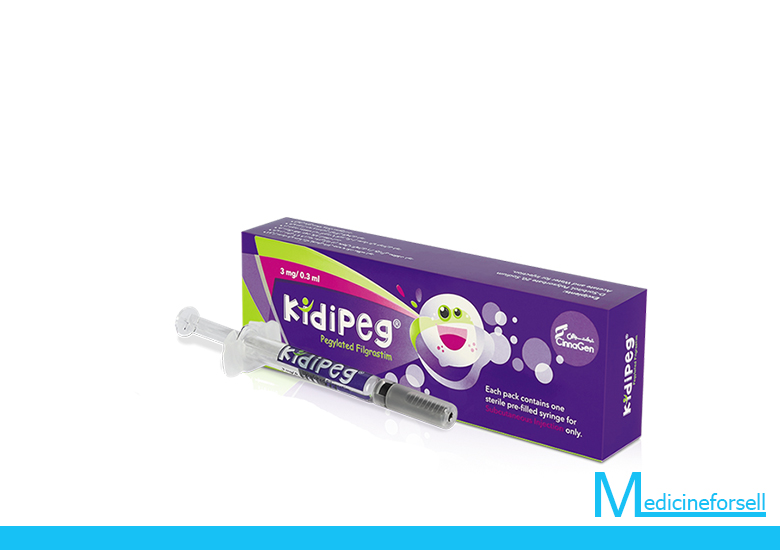 KidiPeg (Pegylated Filgrastim)
This Chapter Has a Good Ending…
What is it?
What is KidiPeg ?
KidiPeg is the brand name of Pegfilgrastim. KidiPeg is supplied in 3 mg/0.3 mL prefilled syringes. KidiPeg is available in pack containing 1 sterile pre-filled syringe and a patient information leaflet.
Indications
What is KidiPeg used for?
KidiPeg is used to decrease the incidence of infection, by stimulation of granulocyte production, in patients with nonmyeloid malignancies receiving myelosuppressive therapy associated with a significant risk of febrile neutropenia.
Contraindications
Who should not use KidiPeg?
Do not take KidiPeg if you have had a serious allergic reaction to pegfilgrastim or filgrastim or any component of the formulation.
Important information
What should you know about taking KidiPeg?
-Tell your doctor about the allergy and what signs you had, like rash and hives. These reactions may happen with first dose or subsequent doses.
-You should only receive a dose of KidiPeg on the day your healthcare provider tells you. You should not receive your dose of KidiPeg® any sooner than 24 hours after you finish receiving your
chemotherapy.
-Dosing for children and Adolescents <45 kg is based on patient weight.
-Throw away expired drugs.
-Do not use if the solution is cloudy, leaking, changes color or has particles.
-Keep KidiPeg out of the reach of children.
What other drugs could affect KidiPeg?
Other drugs may affect KidiPeg, including prescription and over-the-counter medicines, vitamins, and herbal products. Tell your doctor about all your current medicines and any medicine you start or stop using.
How to use KidiPeg?
Always use KidiPeg exactly as your doctor has told you.
The usual dose for children and Adolescents <45 kg is 100 μg/kg and is injected under your skin (subcutaneous). KidiPeg® should be administered after your last dose of chemotherapy at the end of each chemotherapy cycle.
What happens if you miss a dose?
If you miss a dose of KidiPeg, inject drug as soon as possible. Unless you are close to injection of next dose. Talk to your doctor about the missing dose.
What happens if you overdose?
Seek emergency medical attention or call your doctor or pharmacist in cases of overdose.
Side Effects
What are some side effects of KidiPeg?
All drugs may cause side effects. However, many people have no side effects or only have minor side effects. Call your doctor or get medical help if any of these side effects or any other side effects bother you or do not go away.
The most common side effects of this drug are pain in the bones, arms, and legs. If you get any side effects, talk to your doctor, pharmacist or nurse. This includes any possible side effects.
Storage
How to store KidiPeg?
-Store KidiPeg between 2- 8 °C (in refrigerator) and do not freeze.
-Store KidiPeg in its original package in the refrigerator, protected from light.
-Do not shake KidiPeg.
-Discard KidiPeg stored at room temperature for more than 48 hours.
-Keep KidiPeg in a safe place and out of the reach of children.