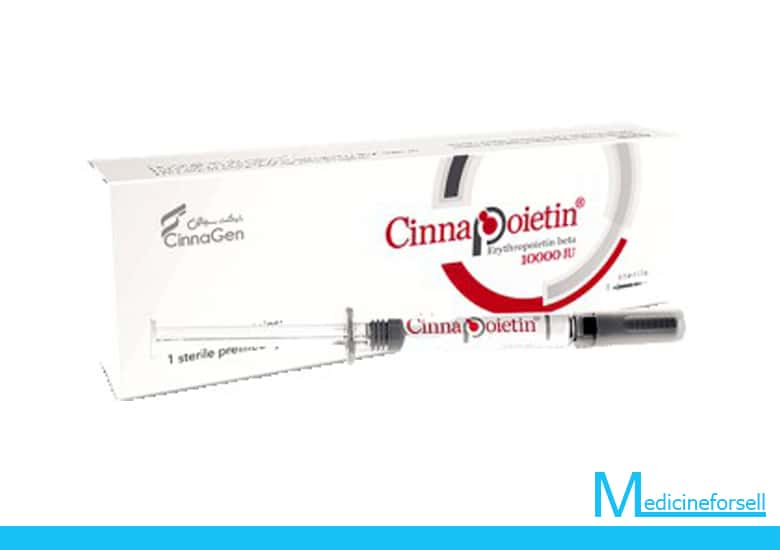 CinnaPoietin (Erythropoietin β)
Protect yourself, faster and stronger
What is it?
What is Cinnpoietin?
Cinnapoietin is a clear, colourless solution for injection under the skin (subcutaneously) or into a vein (intravenously). It contains a hormone called epoetin beta, which stimulates the production of red blood cells. Epoetin beta is produced by a specialized genetic technology and works in exactly the same way as the natural hormone erythropoietin.
CinnaPoietin®is available in packs containing:
Each pack contains Dosage
6 Sterile Pre-Filled Syringes and PIL* 2000 IU/ 0.3 ml
6 Sterile Pre-Filled Syringes and PIL 4000 IU/ 0.3 ml
1 Sterile Pre-Filled Syringe and PIL 10,000 IU/ 0.6 ml
1 Sterile Pre-Filled Syringe and PIL 20,000 IU/ 0.6 ml
1 Sterile Pre-Filled Syringe and PIL 40,000 IU/ 0.6 ml
*patient information leaflet
Indications
What is Cinnapoietin used for?
-Treatment of anemia associated with chronic kidney disease (CKD) in patients on dialysis and symptomatic patients not yet undergoing dialysis.
-Increase the yield of autologous blood from patients in a pre-donation program initiated to avoid the use of homologous blood.
-Prevention of anemia of prematurity in infants with a birth weight of 750 g to 1500 g and a gestational age of less than 34 weeks.
-Treatment of anemia and reduction of transfusion requirements in patients with non-myeloid malignancies, where anemia develops as a result of concomitantly administered chemotherapy.
Contraindications
Who should not use Cinnapoietin?
Do not use Cinnapoietin
• If you are allergic to epoetin beta or any of the other ingredients of this medicine
• If you have blood pressure problems that cannot be controlled
• If you are donating your own blood before surgery, and:
• You had a heart attack or stroke in the month before your treatment
• You have unstable angina pectoris – new or increasing chest pain
• You are at risk of blood clots in the veins (deep venous thrombosis) – for example, if you have had clots before. If any of these apply to you, or might apply, tell your doctor at once.
Important information
What should you know about taking Cinnapoietin?
Talk to your doctor before taking Cinnapoietin
• If your baby needs treatment with Cinnapoietin, your baby will be carefully monitored for any potential effects on the eye.
• If your anemia does not improve with epoetin treatment
• If you are low in certain B vitamins (folic acid or vitamin B12)
• If you have very high levels of aluminium in your blood
• If your blood platelet count is high
• If you have chronic liver disease
• If you have epilepsy
• if you have developed anti-erythropoietin antibodies and pure red cell aplasia (reduced or stopped production of red blood cells) during prior exposure to any erythropoietic substance. In this case you should not be switched to Cinnapoietin.
What other drugs could affect Cinnapoietin?
Cinnapoietin  may interact with some of your other medicines. Consult your doctor or pharmacist if you are taking, have recently taken or might take any other medicines, including herbal, supplemental and OTC (over the counter) medicines.
How to use Cinnapoietin ?
Always use this medicine exactly as your doctor has told you. Check with your doctor or pharmacist if you are not sure. Your doctor will use the lowest effective dose to control the symptoms of your anemia. If you do not respond adequately to Cinnapoietin  your doctor will check your dose and will inform you if you need to change doses. Treatment must be started under the supervision of your doctor. Further injections are given by your doctor or, after you have been trained, you can inject Cinnapoietin yourself.  Cinnapoietin  can be injected under the skin in the abdomen, arm or thigh; or into a vein. Your doctor will decide which is best for you.
Your doctor will carry out regular blood tests to monitor how your anemia is responding to treatment by measuring your hemoglobin level.
Is Cinnapoietin safe during pregnancy and breastfeeding?
Tell your doctor or your pharmacist if you are pregnant, are planning to become pregnant or are breastfeeding.
What happens if you miss a dose?
If you missed a dose, call your doctor and ask about the instruction of use.
What happens if you overdose?
Additional doses of the drug should be avoided and if you took additional doses, contact your doctor or pharmacist at any time for future advice.
Side Effects
What are some side effects of Cinnapoietin?
Skin reactions such as rash, pruritus, urticaria, or injection site reactions. Particularly when starting treatment,
Flu-like symptoms such as fever, chills, headaches, pain in the limbs, malaise and/or bone pain have been reported. These reactions were mild to moderate in nature and subsided after a couple of hours or days.
Storage
How to store Cinnapoietin?
Store between 2- 8 °C (in refrigerator) in the carton to protect from light and do not freeze. CinnaPoietin must not be used after the expiry date.
Keep Cinnapoietin like all medicines out of the reach of children.