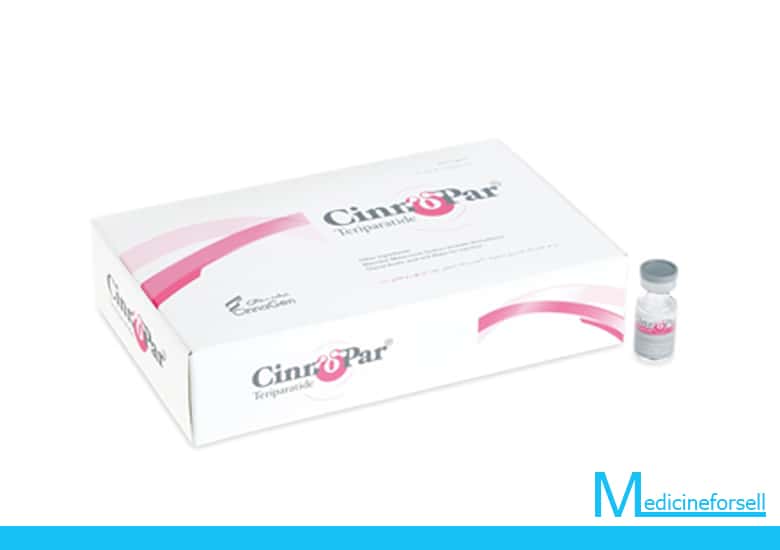 More Dosing Accuracy, Touch the Patient Preference
What is it?
What is CinnoPar?
CinnoPar is a recombinant human parathyroid hormone analogproduced by CinnaGen Co. CinnoPar is a prescription drug which is like natural hormone secreted by parathyroid glands called parathyroidhormone or PTH. Each pen contains 250 mcg/ml, 2.4 ml of teriparatide.
Indications
What is CinnoPar used for?
CinnoPar stimulates bone formation, increases bone mineral density and bone strength. CinnoPar can lessen the number of fractures of the spine and other bones in postmenopausal women with osteoporosis.
CinnoPar is used in both men and postmenopausal women with osteoporosis who are at high risk for having fractures.
CinnoPar can be used by people who have had a fracture related to osteoporosis, or who have multiple risk factors for fracture, or who cannot use other osteoporosis treatments.
Also, CinnoPar is indicated for the treatment of men and women with osteoporosis associated with sustained systemic glucocorticoid therapy at high risk for fracture.
Contraindications
Who should not use CinnoPar?
Do not use CinnoPar if you:
• Are allergic to teriparatide or any components of CinnoPar formulation.
• Have Paget's disease.
• Have unexplained high blood levels of alkaline phosphatase, which means you might have Paget's disease or other bone disease.
• Are a child or young adult whose bones are still growing
• Have ever been diagnosed with bone cancer or other cancers that have spread (metastasized) to your bones.
• Have had radiation therapy involving the skeleton.
• Have certain bone diseases. If you have a bone disease, tell your doctor.
• Have or had too much calcium in your blood (hypercalcemia).
CinnoPar should not be used to prevent osteoporosis. CinnoPar should be used to treat osteoporotic patients who are considered to be at high risk for fracture.
Important information
What should you know about taking CinnoPar?
Tell your healthcare provider about all of your medical conditions including if you:
• Have one of the conditions listed in the section "Who should not use CinnoPar"?
• Have trouble injecting yourself and do not have someone who can help you.
• Have or had kidney diseases including kidney stones.
• Have hepatic impairment.
• Have cardiovascular diseases.
• Have hyperparathyroidism.
• Are pregnant or thinking about becoming pregnant. It is not known if CinnoPar will harm your unborn baby.
• Are breast-feeding or thinking about breast-feeding. It is not known if CinnoPar is excreted into breast milk. You should discontinue nursing while taking CinnoPar.
Before taking CinnoPar tell your healthcare provider about all the medicines you take including prescription and non-prescription medicines, vitamins, and herbal supplements. Your healthcare provider needs this information to keep you from taking CinnoPar with othermedicines that may harm you.
• Especially tell your doctor if you take medicines that contain digoxin (for example, Digoxin, Lanoxicaps, Lanoxin).
What you need to know before using CinnoPar?
• It is not recommended to use CinnoPar for more than two years.
• Administer the drug daily with subcutaneous injection.
• The daily dosing of the drug is 20 mcg which is equal to 0.08 cc.
• 0.08 cc means 8 units on the Pen. For this purpose, rotate the dose dialer until "8" aligns with the pointer in the dose window to set dose to 8 units.
• Do not transfer the medicine from the CinnoPar delivery device to a syringe. This can result in taking the wrong dose of CinnoPar.
• CinnoPar should look clear and colorless. Do not use CinnoPar if it has particles in it, or if it is cloudy or colored.
• After each use, safely remove the needle, recap the delivery device, and put it back in the refrigerator right away.
• You can take CinnoPar with or without food or drink.
• You can take CinnoPar at any time of the day. To help you remember to take CinnoPar, take it at about the same time each day.
• If you forget or cannot take CinnoPar at your usual time, take it as soon as you can on that day. Do not take more than one injection in the same day.
• Do not inject all the medicine in the CinnoPar delivery device at any one time. If you take more CinnoPar than prescribed, call your healthcare provider. If you take too much CinnoPar, you may have nausea, vomiting, weakness, or dizziness.
• Throw away CinnoPar delivery device after 30 days, even it still contains medicine.
• The best injection sites are your thigh or abdomen.
• The injection site should not be constant.
What other drugs could affect CinnoPar?
Tell your doctor about all your current medicines and any you start or stop using, especially:
-digoxin, digitalis.
This list is not complete. Other drugs may interact with teriparatide, including prescription and over-the-counter medicines, vitamins, and herbal products. Not all possible interactions are listed in this medication guide.
How to use CinnoPar?
Use CinnoPar exactly as it was prescribed for you. Follow all directions on your prescription label. Do not use this medicine in larger or smaller amounts or for longer than recommended.
Usual Adult Dose for Osteoporosis:
20 mcg (8 unit from pen) subcutaneously once a day into the thigh or abdominal wall.
Is CinnoPar safe during pregnancy and breastfeeding?
Tell your doctor or your pharmacist if you are pregnant or breastfeeding before using the drug.
What happens if you miss a dose?
Use the missed dose on the same day you remember it. Use your next dose at the regular time and stay on your once-daily schedule. Do not use 2 doses in one day.
What happens if you overdose?
Additional doses of the drug should be avoided and if you took additional doses, contact your doctor or pharmacist at any time for future advice.
Side Effects
What are some side effects of CinnoPar?
Most side effects are mild and include:
• Nausea.
• Vertigo and dizziness
• Orthostatic Hypotension. Some patient may feel lightheaded or have palpitation right after the first few doses. This usually begin within 4 hours of taking CinnoPar and resolves within a few hours. For the first few doses, take your injections of CinnoPar in a place where you can sit or lie down right away if you get these symptoms. If your symptoms get worse or do not go away, stop taking CinnoPar® and call your healthcare provider.
• Leg cramps.
• Joint aches.
• Increased calcium in your blood (Hypercalcemia). Tell your healthcare provider if you have persistent nausea, vomiting, constipation, low energy, or muscle weakness. These may be the symptoms of hypercalcemia.
• Injection site reactions including redness, swelling, pain, itching, a few drops of blood, and bruising.
These are not all the possible side effects of CinnoPar. Tell your healthcare provider if you have any side effect that bothers you or that does not resolve. Call your doctor for medical advice about side effects.
Your healthcare provider may take samples of blood and urine during treatment to check your response to CinnoPar. Also, your healthcare provider may ask you to have follow up tests of bone mineral density.
Storage
How to store CinnoPar?
• Keep your CinnoPar pen in the refrigerator at 2 to 8 °C or 36 to 46 °F
• Do not freeze the CinnoPar pen. Do not use CinnoPar if it has been frozen.
• Do not use CinnoPar after the expiration date printed on the label of pen and packaging.
• Throw away the CinnoPar pen after 30 days even if it has medicine in it.
• Keep CinnoPar like all medicines out of the reach of children.