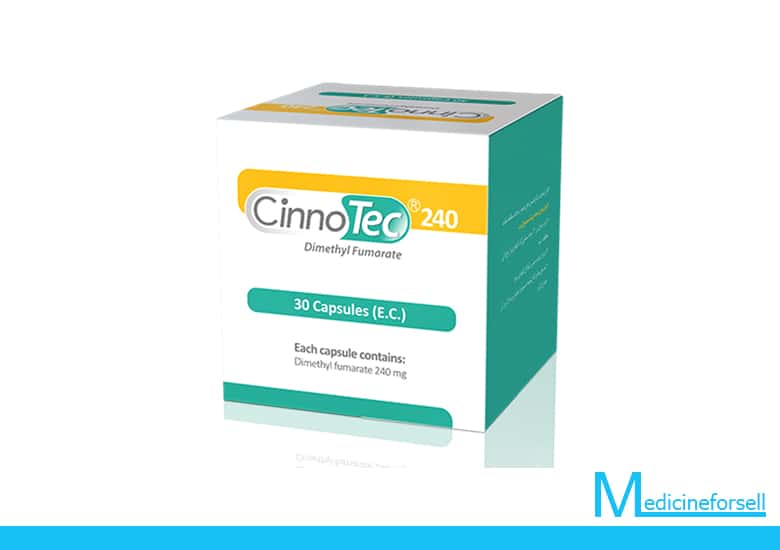 CinnoTec
Back to Real Life
What is it?
What is CinnoTec?
CinnoTec (dimethyl fumarate) is a prescription medicine used to treat relapsing multiple sclerosis.
Indications
What is CinnoTec used for?
CinnoTec® (Dimethyl fumarate) is used to treat treatment of patients with relapsing forms of multiple sclerosis.
Contraindications
Who should not use CinnoTec ?
You should not use CinnoTec if you are allergic to dimethyl fumarate.
Important information
What should you know about taking CinnoTec?
Get emergency medical help if you have any signs of an allergic reaction to CinnoTec: hives; difficult breathing; swelling of your face, lips, tongue, or throat.
CinnoTec may cause a serious viral infection of the brain that can lead to disability or death. Symptoms may start gradually and get worse quickly. Call your doctor right away if you have any change in your mental state; decreased vision; weakness on one side of your body; problems with speech or walking. fever, pain when swallowing, cold or flu symptoms; severe redness or feelings of warmth, tingling, itching, or burning; or liver problems – loss of appetite, upper stomach pain (right side), tiredness, dark urine, clay-colored stools, jaundice (yellowing of the skin or eyes).
Take CinnoTec exactly as your doctor has prescribed Follow all directions on your prescription label. Your doctor may occasionally change your dose to make sure you get the best results. Do not take this medicine in larger or smaller amounts or for longer than recommended.
Your doctor will perform blood tests to make sure you do not have conditions that would prevent you from safely using CinnoTec.
What other drugs could affect CinnoTec?
Other drugs may interact with CinnoTec, including prescription and over-the-counter medicines, vitamins, and herbal products. Tell each of your health care providers about all medicines you use now and any medicine you start or stop using.
How to use CinnoTec?
You may take this medicine with or without food. Taking the medicine with food may help prevent flushing (warmth, itching, or burning sensations).
Do not crush, chew, break, or open a capsule. Swallow it whole.
CinnoTec is usually given in two different strengths, one for a starter dose and the other for a maintenance dose. The starter dose is usually taken for only 7 days. Follow your doctor's dosing instructions very carefully.
While using this medicine, you will need frequent blood tests.
CinnoTec dosing information
Usual Adult Dose for Multiple Sclerosis:
Initial dose: 120 mg orally twice a day for 7 days.
Maintenance dose: 240 mg orally twice a day.
Is CinnoTec safe during pregnancy and breastfeeding?
It is not known whether dimethyl fumarate will harm an unborn baby. Tell your doctor if you are pregnant or plan to become pregnant while using this medication.
If you are pregnant, your name may be listed on a pregnancy registry. This is to track the outcome of the pregnancy and to evaluate any effects of CinnoTec on the baby.
It is not known whether dimethyl fumarate passes into breast milk or if it could harm a nursing baby. Tell your doctor if you are breast-feeding a baby.
What happens if you miss a dose?
Take the missed dose as soon as you remember. Skip the missed dose if it is almost time for your next scheduled dose. Do not take extra medicine to make up the missed dose.
What happens if you overdose?
Seek emergency medical attention.
Side Effects
What are some side effects of CinnoTec?
Common CinnoTec side effects may include:
-stomach pain, indigestion;
-nausea, vomiting, diarrhea;
-rash, itching; or
-flushing (warmth, redness, or tingly feeling).
This is not a complete list of side effects and others may occur. Call your doctor for medical advice about side effects.
Storage
How to store CinnoTec?
Store at room temperature away from moisture, heat, and light. Throw away any unused capsules 90 days after you first opened the bottle.